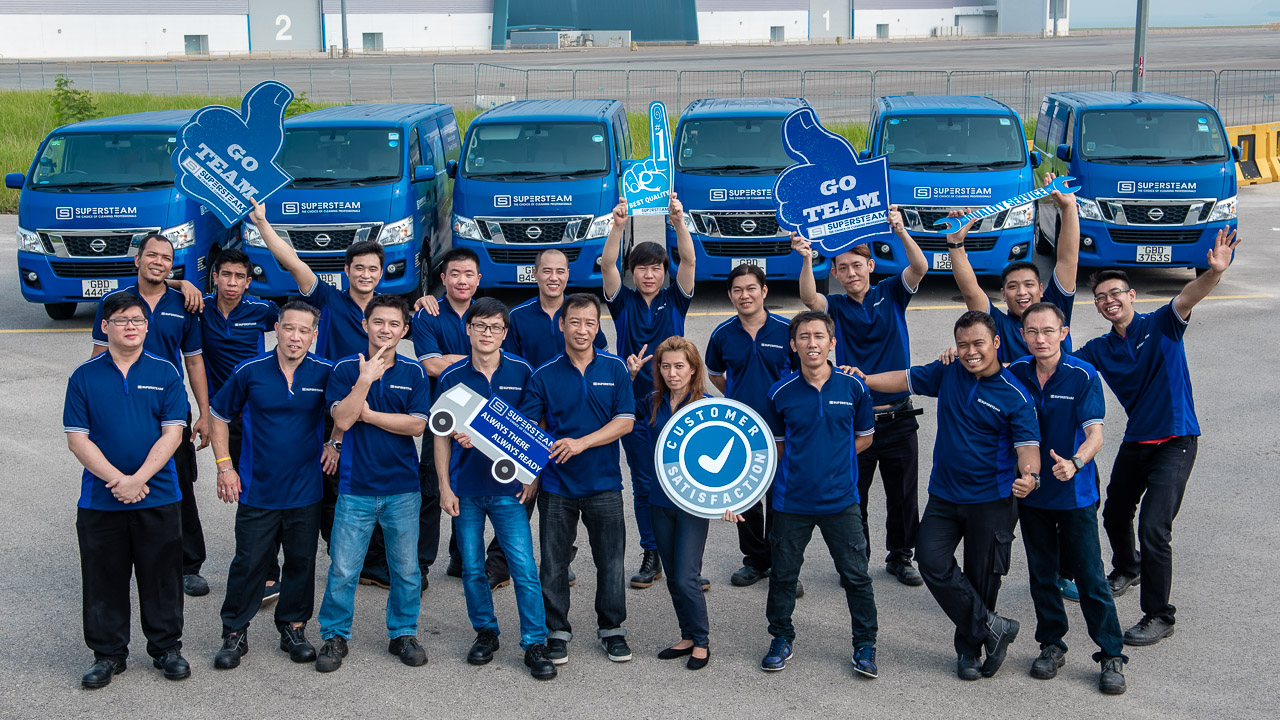 SuperSteam is not a normal company. It is a mission to make the world a better place and a challenge to see how far we can go. From a two man start-up in 2002 selling only steam cleaners, we are now the leader in professional cleaning equipment and supplies in Singapore, with a wide range of over 3000 items in stock. Tomorrow, we have bigger plans…
Team SuperSteam is the secret of SuperSteam's success and rapid growth. We value talent and people who love to serve customers. A person's capability and commitment is much more important than skin colour or where a person came from. Team SuperSteam currently comprises of Singaporeans, Malaysians, Chinese, Indonesians, Filipinos… and as a team, we not only work hard but play hard too!
Our culture is on giving really great customer service, service from the heart. And we are constantly seeking to improve the company to reach that goal. Every week, we make small improvements and every year, we undertake several major projects, such that with each year, we are a much more capable and better company.
With our rapid growth and market leadership, comes social responsibility too. Every year, we support different charities with professional cleaning equipment and advice. SuperSteam makes the world a better place through making it cleaner and more hygienic for not just our customers but also charities too…
We have the following positions vacant:
Spare Part Store Keeper+
Robotics Technical Specialist +
Robots, automation, and all things IT!
Join our technical team as a Robotics Technical Specialist to spearhead the commissioning and deployment of new professional autonomous cleaning robots in Singapore. An exciting career with training provided. Work with serious professionals in an excellent technical team.
About SuperSteam
SuperSteam Asia Pacific Pte Ltd is a market leader in Singapore's professional cleaning equipment market and has been featured in the press. You definitely will have come across and used our products all over Singapore…
We require Robotics Technical Specialist to commission and deploy our new product: professional autonomous cleaning robots. These robots will be deployed all over Singapore: in shopping centres, factories, public spaces, and warehouses.
This position requires experienced technicians comfortable with computers (to perform mapping) and deployment analysis (to determine optimal cleaning route for robot). Training will be provided. Working overtime is part of the job since some deployments will be late at night.
Primary Responsibilities
Deployment of Robot

Mapping
Optimising route
Commissioning robot
Training of end users

Robotic trials at customer's job site (sometimes late at night)
Demonstrations of the Robot to customers
Advice customers on the correct model and appropriate deployment
Preventive maintenance checks on Robot
Troubleshoot Robot Software and hardware
Work closely with manufacturer to report problems and suggest upgrades
Basic Robotic hardware adjustments and repairs
Other duties as assigned
We are looking for:
Diploma in Mechatronics
Comfortable with handling computers
Fast learner
Some mechanical repair experience
Able to speak Chinese and communicate with (Chinese) manufacturer a plus
Why Join SuperSteam?
Full-time position (not contract)
Be specialist in a new important emerging product field in Singapore
Opportunities for overseas training with supplier
Good basic salary
OT opportunities
13th month bonus
Additional Year End Bonus (for good performers)
Training provided
Very good teamwork
Market leader
Additional info:
Please note:
If you are keen, please submit your detailed resume with a recent photo at

[email protected]
Please state your

 Current salary
 Expected salary
 Reasons for leaving (Past and present employment)
 Notice period (if any)
We apologise that we will only respond to shortlisted candidates. Thank you!
Outdoor Sales Executives Required (High Pay, Market Leader, Recurring Sales)… +
Do you like outdoor sales?
SuperSteam Asia Pacific Pte Ltd is a leading company in Singapore's professional cleaning equipment market and has been featured in the press. Nearly every Singaporean has used our products all over Singapore…
We supply everything professional cleaning requires – handsoap, sanitisers, microfiber cloths, mop buckets, high-pressure jet machines etc.  These products are in demand and relatively recession proof.
Our company is expanding and we require experienced sales people to expand our customer base and sectors. This position requires professionals experienced in sales and who love outdoor sales. The candidate must also like selling physical products. It is a position that pays a good compensation and comes with ready accounts and good HQ support.
Remuneration
Good basic + commission + incentives
Vehicle & petrol allowance
Mobile phone provided
Attractions:
Leading brand in market – nearly everyone in Singapore have used our products
Fast company growth averaging 25-35% annually
Easy to sell products (e.g. cleaning chemicals, mop buckets, high-pressure jets)
Providing professional cleaning products (relatively recession proof)
Individual coaching and product training provided
Fast sales cycle
Recurring sales
Assigned territory
Competitive pricing
Ready accounts to serve
Full HQ support (quotations, service, delivery)
Fully stocked warehouse
Full-time position (not contract)
Only essential paperwork and SAP to update
Company expansion – new products, new sectors
Who should apply:
Outdoor sales experience about 2-3 years
Hungry, driven individuals
Eloquent and skilled at objection handling
Experience in selling physical goods
Able to speak Chinese/dialects a plus
Own vehicle
Class 3 license
Local Singaporeans/PR only.
Able to fit into our sales culture of

Hardworking
Disciplined
Good product knowledge
Fast customer service
Humble
Responsibilities:
Outdoor sales
Service existing accounts
Develop new accounts
If you are keen, please submit your detailed resume with a recent photo at [email protected]
Please state your
Current salary
Expected salary
Reasons for leaving (past and present employment)
Notice period (if any)
We apologise that we will only respond to shortlisted candidates. Thank you!
If you would like to join our dynamic team, please email current resume with photo to [email protected] or mail it to: 
HR Manager
Tel: +65 8163 4100
SuperSteam Asia Pacific Pte Ltd
3013 Bedok Industrial Park E
#04-2128
Singapore 489979