Maintaining attractive and shiny floors requires more than just a broom and mop. The most common professional floor maintenance methods include scrubbing, polishing and burnishing.
Scrubbing

Suitable when a floor needs to be cleaned of various marks and scratches. Wet scrubbing can be done using SuperSteam's low-speed machines. Scrubbing is highly recommended prior to floor coating.
Burnishing
This method is used for a quick touch up on dry glossy floors. It is normally done with a high speed burnisher. It restores some gloss and smoothness to the floor, but it does not achieve the same wet-look shine that polishing does.
Polishing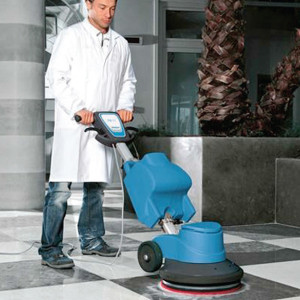 Suitable to grind the floor to a high gloss finish. This procedure is done with a strong and heavy scrubbing machine (eg our Mega Americana). Depending on the floor, marble polishing powder, diamond discs or steel wool pads are used.