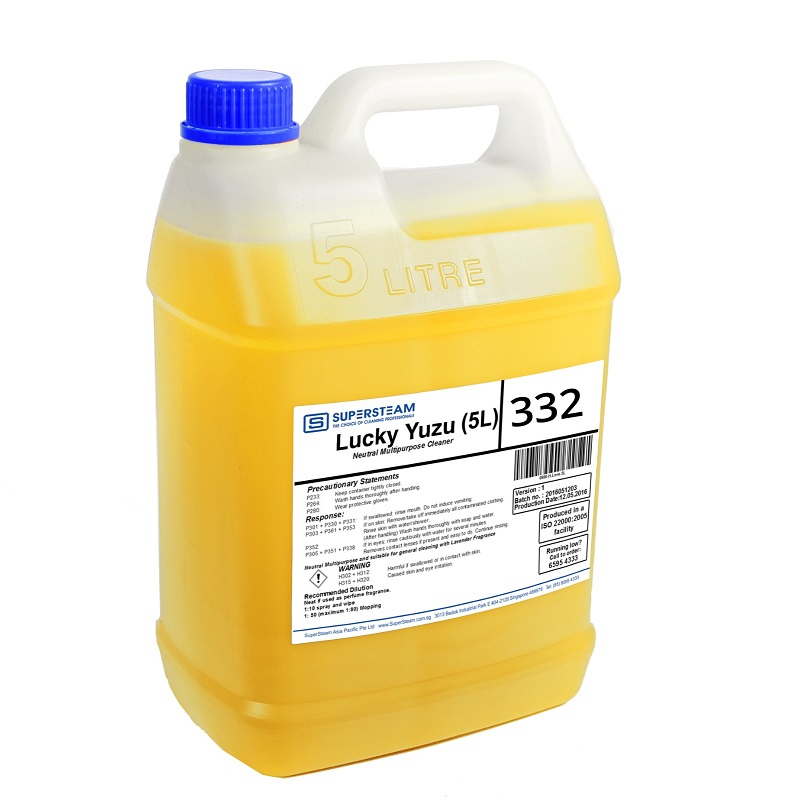 Lucky Yuzu (332)
Premium Multipurpose Floor Cleaner
Long Lasting Fragrance Fortified with QAC
Lucky Yuzu is a extra fragrant neutral multipurpose floor cleaner that is fortified with Benzalkonium Chloride (Quaternary Ammonium Compound), an anti bacterial agent and active ingredient against Covid 19.
Being non toxic and biodegradable, it is ideal for general cleaning applications across a wide variety of surfaces with a strong Yuzu fragrance.
Lucky Yuzu prevents build up of bacteria and viruses and can be used in removing odours from toilets and homes.
Made at SuperSteam's own ISO 22000 certified facilities in Singapore.
Lucky Yuzu is available in 25 L and 5 L packaging. MOQ = 1 drum (25 L) or 1 carton (5 x 5 L).
Contact Us for Details
Technical Specifications
| CHEMICAL NAME | Lucky Yuzu |
| --- | --- |
| Chemical Code | 332 |
| MOQ | 1 carton (5 x 5L) / 1 Drum (25L) |
| Form | Liquid |
| Colour | Yellow |
| Fragrance | Yuzu |
| pH | 7.0 |